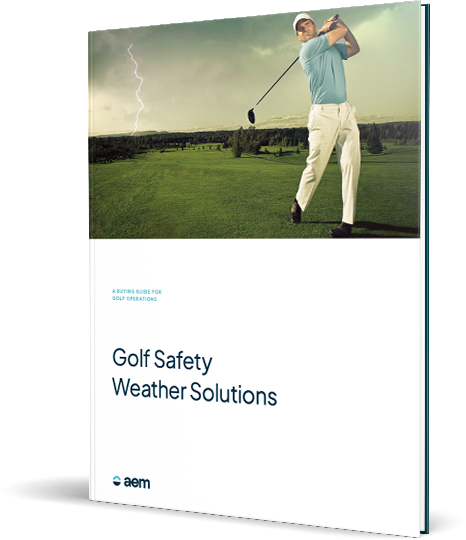 Golf is one of the most popular outdoor activities during the summer, but those same months are the heart of thunder and tropical storm seasons. Extreme weather is a major threat to golfers and golf courses, as lightning, high winds, hail, and even flash flooding can turn a peaceful day on the links into a nightmare. In this buying guide we will cover the following topics:
Send me the buying guide!
Golf and weather
To keep the public safe and protect grounds and equipment, all golf courses must monitor the weather and deliver alerts when unsafe conditions develop. In many places around the country and world, however, that system is a television tuned to a local newscast and a single employee manually blasting an airhorn at their own discretion. That method simply isn't adequate in terms of accuracy, reliability, and consistency anymore, especially in the face of increasingly large and unpredictable summer storm systems.
The best route to safety is always preparedness. In this guide, we'll cover how golf courses can prepare for and respond to severe weather to maximize safety, reduce liability, and provide golfers with the best possible experience. Along the way, we'll also share insights from GMs and operations leaders at some of our most weather-ready customers, including Army Navy Country Club in Virginia and Bethesda Country Club in Maryland.

One of the most unpredictable things in our industry is the weather.

Patrick King

General Manager & Chief Operating Officer

Army Navy Country Club in Virginia
Developing a weather safety policy with the three pillars
There's a lot to consider when it comes to mitigating severe weather at the golf course – but don't worry, we have a plan that covers everything! An effective weather safety protocol includes three easy-to-remember pillars: Analyze, Plan, and Implement (API).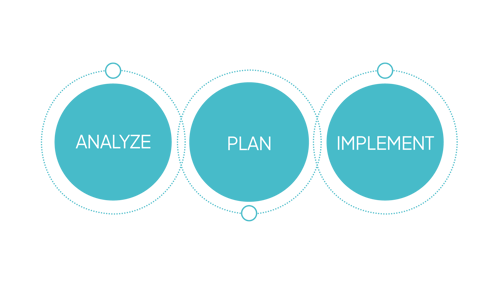 PILLAR ONE
Analyze
The first step in developing a weather safety policy for your club is analysis. You must consider the entire range of activities that take place on course property, who is involved in those activities, and how any number of severe weather events might threaten them. We recommend the following areas for a thorough analysis:
ASSETS OR EXPOSURES
Who or what are you trying to protect? When are they in potential danger?
ACTIVITIES AND EVENTS
What work or recreation activities put people in danger? What conditions put grounds and assets in danger?
THREATS POSED BY WEATHER VARIABLES
What weather events is your course susceptible to (heat, lightning, snow, etc.)?
SANCTIONING BODY GUIDELINES
What rules (local laws, USGA policies, etc.) must you follow?
EVACUATION AND SHELTERING
What is the chain and command and course of action during threatening weather events? Where does everybody take shelter?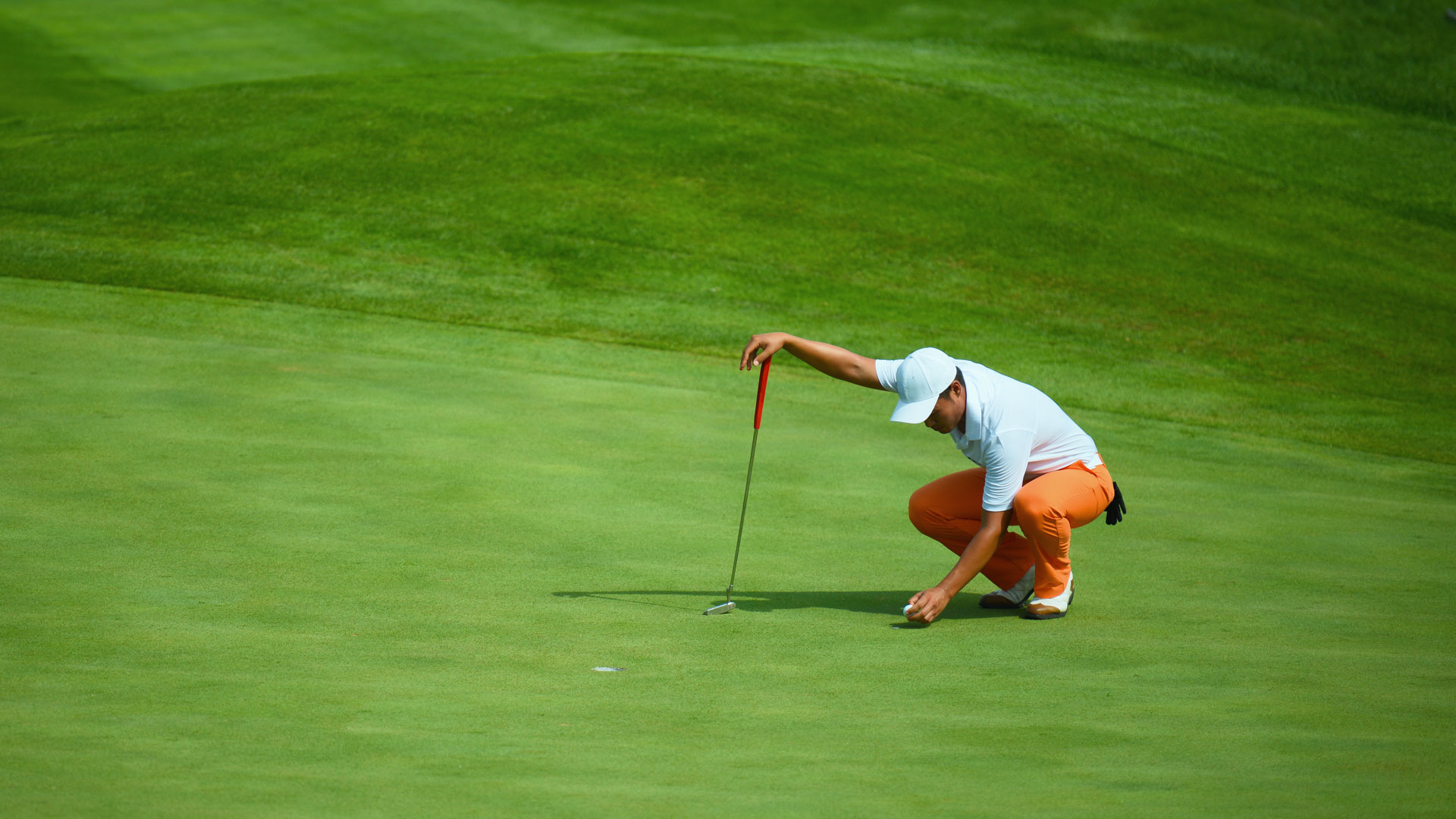 PILLAR TWO
Plan
Now it's time to transform your list of weather-related hazards into a practical plan. Planning for severe weather includes three steps:
Completing the Hazard-Solution Alignment Organizer (See page 18 of the downloadable guide)
Developing a plan of action
Detailing an effective communication strategy
The Hazard-Solution Alignment Organizer is designed to help you turn your understanding of severe weather at your course into the skeleton of an action plan with clear protocols and accountabilities. Keep in mind that no single approach is right for every situation and every course. An effective plan of action includes identifying the following:
Forecasting and detection technologies
Alerting procedures
Safety protocols
Designated shelters
Chain of command
Severe weather events can be frightening and chaotic. When you have a comprehensive plan that's specific to your club, however, you ensure that everybody is on the same page and equipped to keep the course and public safe.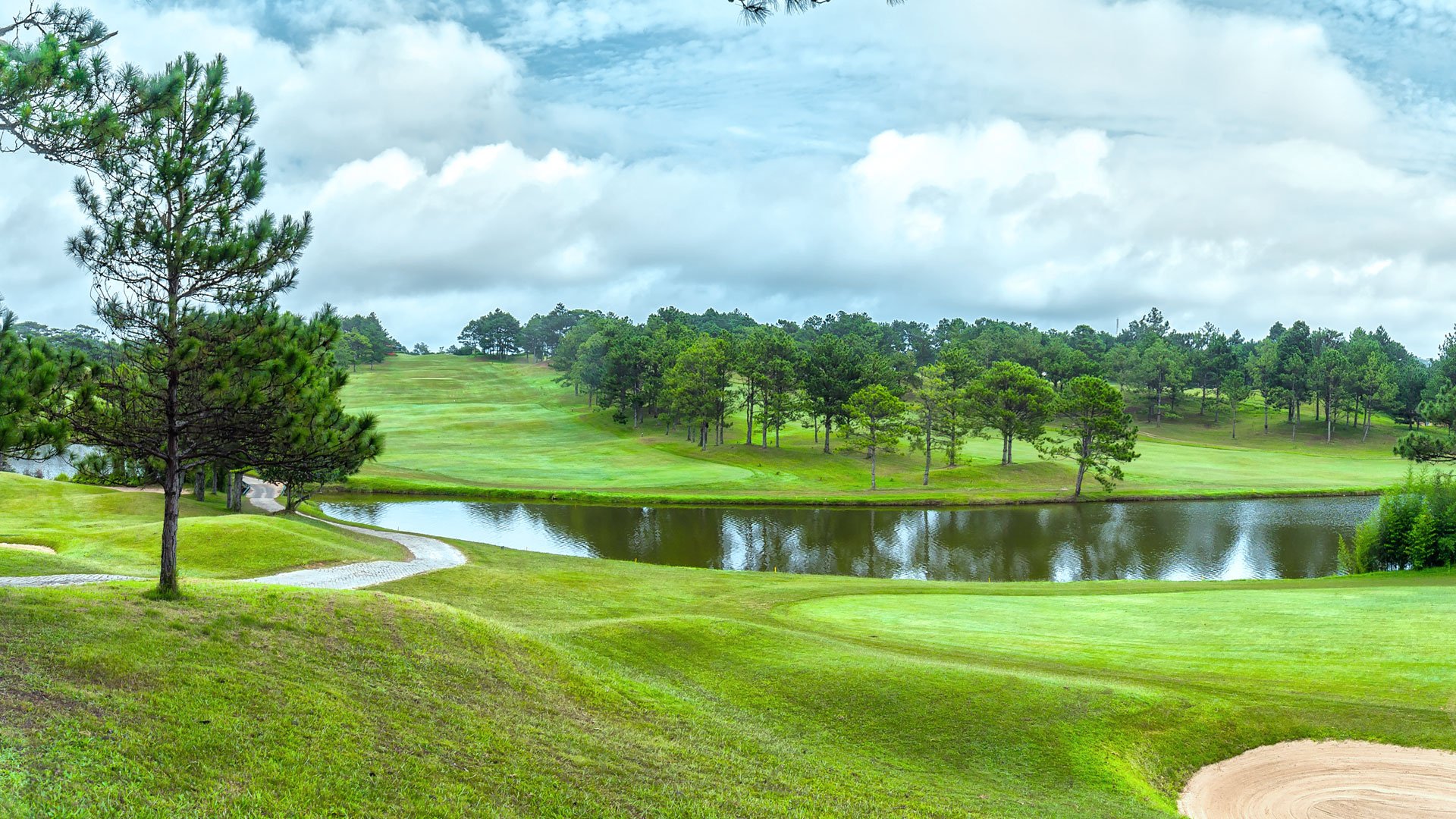 PILLAR THREE
Implement
Now that your comprehensive policies are drafted up and ready to go, it's time for you to implement. You may be wondering how to get these policies up and running at your golf course. Don't worry: We have an implementation checklist that you can follow.
You can't control the weather, no matter how well you run a golf course. If you follow the API procedure to develop a personalized, comprehensive severe weather response policy and bring it to life, however, you maximize your team's chances to lead effectively during a crisis and minimize disruptions, property damage, and injuries.
Building the ultimate safety stack
While reading through this guide, you may have noticed that a weather-safe golf
club relies heavily on weather technologies, alerting systems, and expertise.
This next part is extremely important as we'll outline the most popular tools that you should be using to build a comprehensive weather safety solution.
There are seven components in the ultimate golf weather safety stack. Together with your meticulous planning, these technologies and ser vices will support total protection for severe weather at your club. Here are the items you should look for:
Click the specific panel below to learn more about how these features can transform your golf club operations
The forecast can change a lot from when you listen to the weather report on your drive to work to when patrons, guests, and staff head outdoors at your club. That's why real-time storm tracking is so important to have in your weather safety stack. Modern visualization tools enable severe weather intelligence by incorporating dozens of up-to-the-minute data points like total lightning information, National Weather Service alerts, and radar.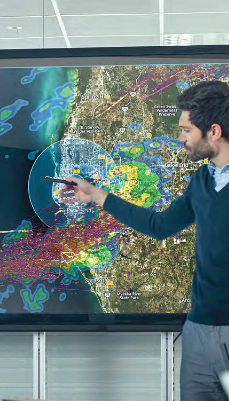 Key features to look for?
Real-time systems with outstanding weather network quality providing updates ever y 2 seconds.
Key features to look for?
An extensive library of visual layers that you can add to your map for a more customized and integrated analysis.
Real-time weather information is important, but so is looking ahead into the immediate and near future. With a little on-site hardware and a connection to a weather network, any golf course can create a personalized forecast for their facility. Localized forecasts allow you to track and set notifications around weather events that are headed toward your exact location – not just your area in general, like the forecasts you get via T V,radio, or big weather sites.
Key features to look for?
Network-based data so that your forecasts include information from your club, not the nearest airport.
Key features to look for?
A variety of components including wind sensor, total lightning sensor, rain gauge, sensor shelter, network appliance, weather display, and HD camera.
One important component of an ideal weather safety technology stack is alerting capabilities. You should be picky about your alerting tools and insist on using providers that enable full alert customization. The best alerting systems allow users to customize what weather events trigger the alerts, the distance when each event triggers the alerts, how the alerts are delivered, and who receives them.
Key features to look for?
Real-time data delivery. Alerts should be pushed to relevant users automatically, without any manual requests.
Key features to look for?
Multi-recipient capability is also key. You more than likely have a team of multiple admins and enforcers that need to stay in the know, so keep that in mind.
Key features to look for?
Multi-channel delivery. Get alerts in a way that works for you. Look for providers that offer text, email, desktop, and in-app notifications.
Key features to look for?
Threat and distance-specific alerts. For example, different alerts for total lightning when it's 12, 8, and 4 miles away from your location.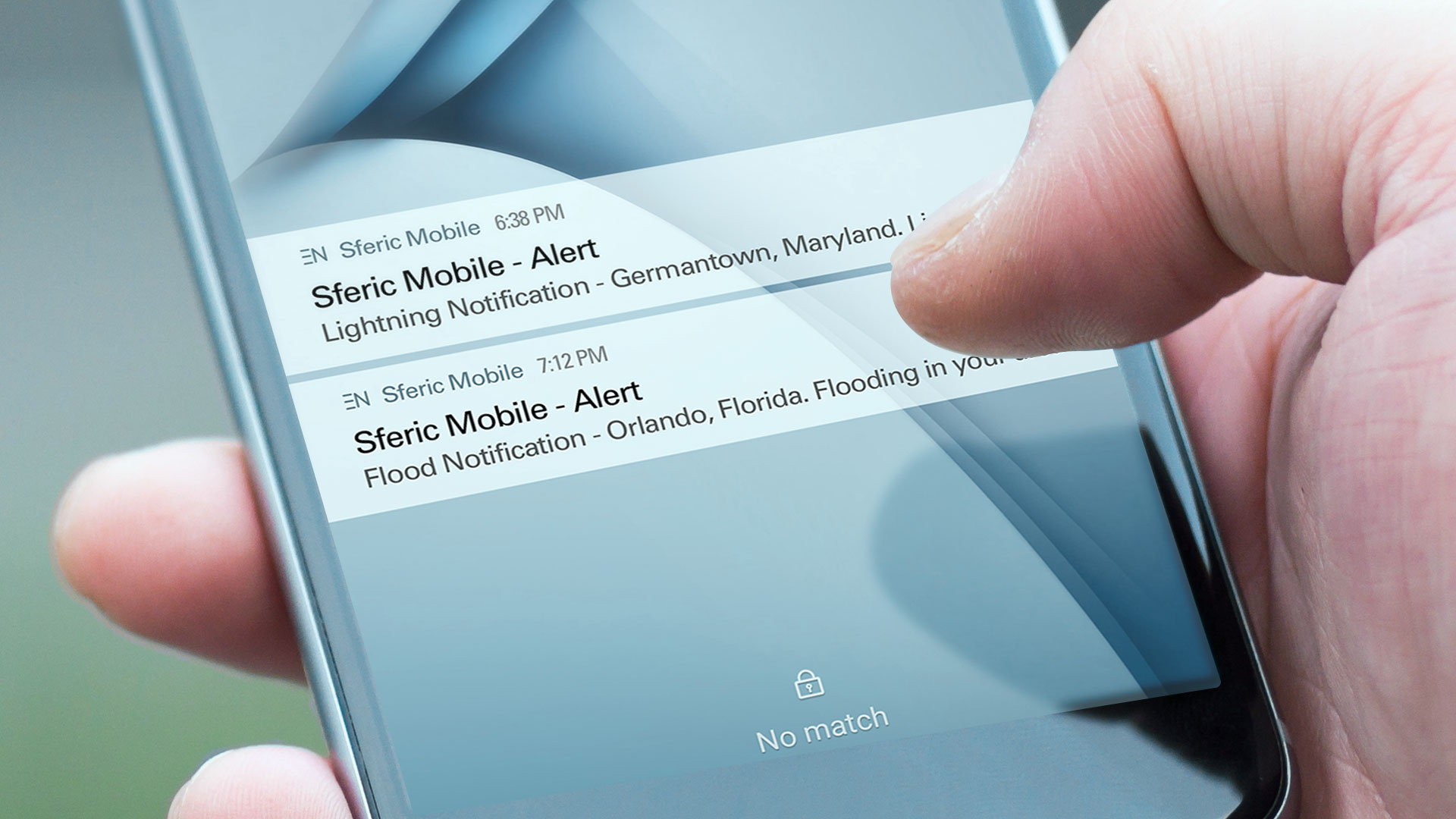 While your staff certainly need alerts to put plans into action, it's also imperative that you include a mass notification system that doesn't require access to a cell phone or smart device. That's where automated high decibel audible and visible alerts come into play. These tools make it easy to put your weather safety plans into action as long as all stakeholders know where to seek shelter.
Key features to look for?
Robust network-based weather detection technology. Network-based warnings are based on a full-picture view of developing and incoming weather, not just a snapshot.
Key features to look for?
The latest systems provide a countdown clock so that decision-makers can clearly see how much longer they must wait to resume activities and communicate that information to all involved stakeholders.
Key features to look for?
Horns and sirens that can be manually activated and silenced. Operations leaders can use your weather alerting and horn system on an as-needed basis to send out warnings, even if preprogrammed thresholds are not reached.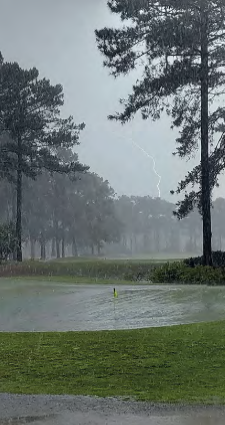 What's the answer?
We've included a Weather Safety Analysis worksheet to help you assess severe weather risk for your golf club operations. Download the buying guide for a print-ready worksheet to help you map out your plan. Use the space to jot down potential risks, location of risks, timing of risks, and the activities that put people at risk.
Most golf clubs find it beneficial to provide live weather information in a physical spot on the course, like the pro shop or snack bar. We recommend you do this with a public weather display screen, which provides transparency to your patrons and increases their safety by letting them know about incoming weather.
These displays work best in high-traffic areas throughout your facility to communicate the latest weather information, warnings, and alerts to club employees and the general public. They can also be placed in isolated work areas, like maintenance sheds or on-course food carts, to ensure all team members are fully plugged in on the latest weather information.
Key features to look for?
A display that includes basic conditions so that community members can quickly digest weather information and carry on with their days.
Key features to look for?
Customization that allows you to include your organization's name, logo, location, or a message of your own.
Key features to look for?
The ability to integrate weather data into existing systems.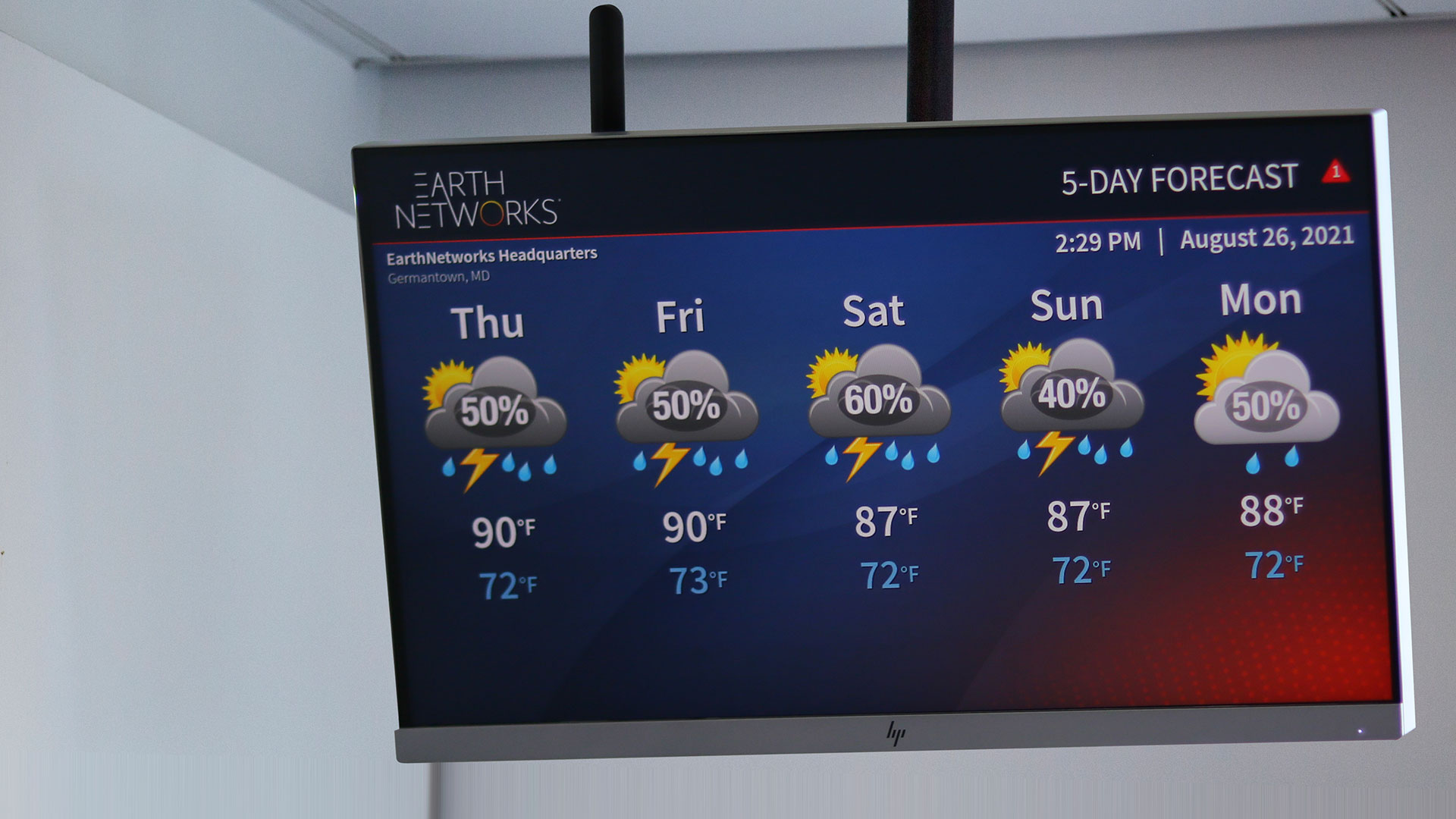 If your course is adjacent to the coast or a lake or is in a low-lying area prone to flash floods, rising waters present a major threat to golfer safety as well as facilities and equipment. Driving a cart or mower into a flooded area could result in injury, liability, or damage to the equipment and the course itself.
High-water monitoring and flood alerts can help prevent those negative events by maximizing your team's information about where water is accumulating and exactly when the course becomes dangerous to the public or at increased risk of long-term damage.
Key features to look for?
Real-time high-water detection. Know the exact moment when your course becomes unplayable or when water rises to hazardous levels.
Key features to look for?
Automated warning signage. Flood warning signs with a flashing light alert golfers on foot or in carts (as well as employees) when they are approaching flooded areas.
Imagine being able to pick up a phone and talk to an expert about a potential severe weather event at your golf course. That's what it's like when you have meteorological support.
When it comes to more complex weather events, there is nothing more valuable than the ability to talk to a meteorologist. You should look for meteorologists who will tailor forecasts to your club's needs, take the call no matter the time or day, and answer any questions you may have without judgement.
Key features to look for?
24/ 7 coverage so you have expert advice no matter where your location or what the clock says
Key features to look for?
A team of meteorologists who meet, confer, and check each forecast and alerts to ensure quality.
Currently we have two horns: We have one on top of the golf clubhouse and one out on the 13th hole, and that allows us to alert the entire property of dangerous weather conditions. When the horn goes off, it's mandatory that every person comes in. And then at the three sounds of the horn it's all clear and we allow the members to go back out. Ted Pogorelc, Head PGA Professional at Bethesda Country Club
Earth Networks has supplied to us a number of different TVs that are hooked into the system so members can actually see the weather pattern going over the site and understand that 'I may not be going golfing right now.' Bradley Cance, Former General Manager and Chief Operating Officer at Bethesda Country Club
We also have Earth Networks displayed in each golf shop for members and for staff. The radar and forecasting system is very accurate, which helps us let members know what is coming even before they get to the first tee. Patrick King, General Manager & Chief Operating Officer at Army Navy Country Club